Greek Almond Cookies
Greek Almond Cookies are served during special occasions. They are normally served at Christmas, Easter, and at weddings. No matter the occasion, you can bet they taste great! Make some for your family or friends and wait for the compliments to roll in.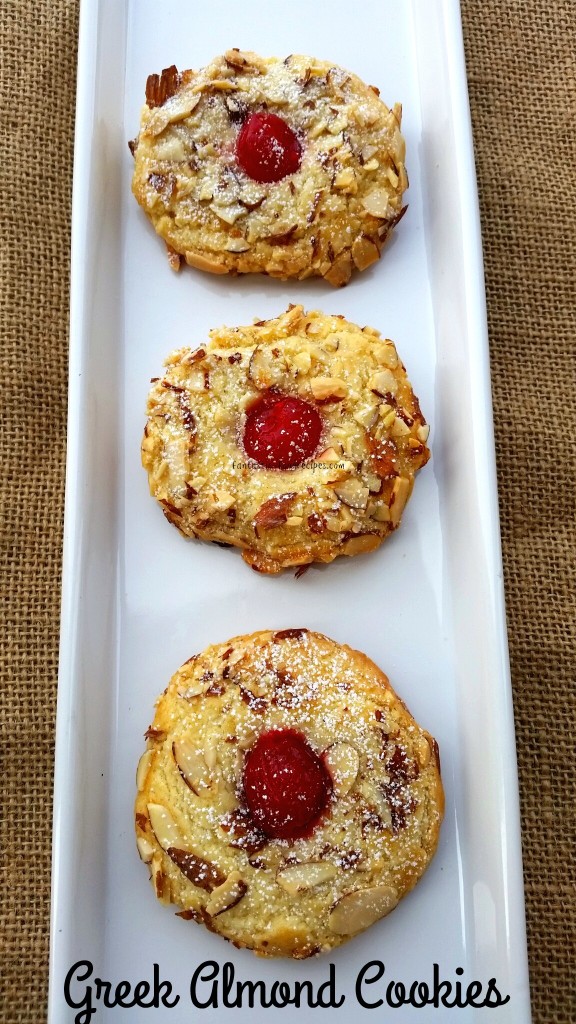 Greek Almond Cookies
Ingredients
3 sticks of butter (room temperature)
1 cup sugar
1 tsp baking powder
4 eggs separated ( room temperature)
3 1/4 cups flour
12 oz. sliced almonds (broken up)
maraschino cherries
½ tsp almond extract
Instructions
Preheat oven to 350 degrees.
Cream sugar and butter. Make sure it is mixed together well.
Add almond extract. Stir to combine.
Separate egg yolks and place egg whites in a separate bowl.
Add egg yolks into the sugar mixture, one at a time and mix well.
Then add flour gradually, one cup at a time. Mix well.
In the other bowl, beat egg whites until fluffy, not stiff.
Take a small pinch of dough and roll it out into balls.
Once all of the dough has been rolled into little balls,  flatten them to about 1 inch thickness.
Dip cookie dough into egg whites and then dip top of cookie in broken up sliced almonds.
Place one cherry in the middle of each cookie.
Bake for 18-20 minutes.
Take them out of the oven and cool completely on a wire rack.
When cool, sprinkle with powdered sugar.