Chinese Beef and Broccoli Stir Fry
Chinese Beef and Broccoli Stir Fry is a recipe that is favored by all in my household. It is very nutritious, packed with protein and fiber, and is pretty simple to make. Oh, I forgot to mention-delicious!!!!!!!!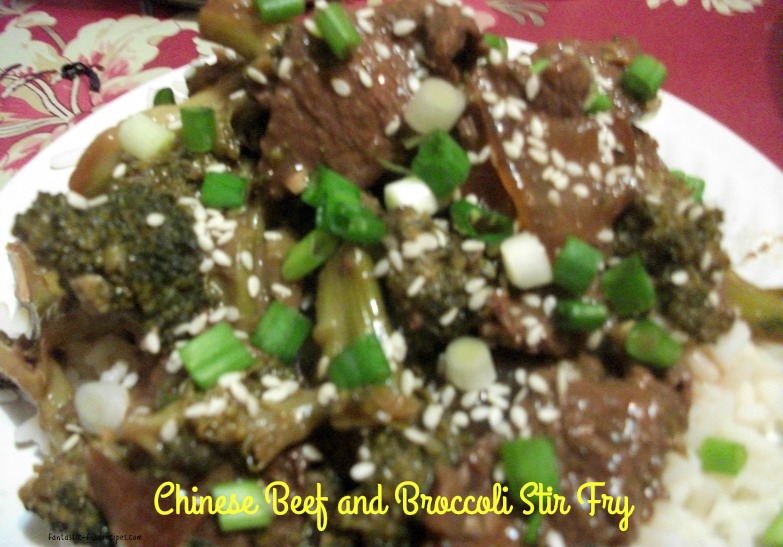 One important thing to remember before attempting to make this recipe is that you must do all of your meal prep before you actually start to cook. You can also make your rice beforehand in order to get the meal on the table when the meat and veggies are done.
Chinese Beef and Broccoli Stir Fry
Ingredients
1 1/4 lb. flat iron steak (fresh, if possible)
4 cups broccoli flowerettes
1/4 to 1/2 Spanish onion
4 garlic cloves, minced
Small piece of fresh ginger
Sesame seeds
2-4 scallions, white and green part separated (for garnish)
3 Tbsp oyster sauce
6 Tbsp + 3 tsp soy sauce
4 Tbsp packed dark brown sugar (optional)
1/2 tsp kosher salt
4 tsp rice wine (you can add a little more to the meat while cooking if you would like)
8 tsp sesame oil
Rice ( I used brown rice)
Slurry or Thickening Agent
4 tsp cornstarch
Drippings from the marinade
Water
Prepping and Marinating the Meat
It is best to use a fresh cut of meat. If this is not possible, take the meat out of the freezer the day before and allow it to thaw out in the refrigerator.
Assuming you are using a fresh cut of meat, take it out of the refrigerator and let it rest on your kitchen counter for 30 minutes to 1 hour.
Remove from package and cut it lengthwise down the middle. Sprinkle each half with the kosher salt.
Take out a 9 x 13 glass baking dish and place it on the counter.
Add 4 tsp cornstarch to the glass baking dish.
Add 4 tsp soy sauce to the glass baking dish.
Add in the rice wine.
Add in 2 tsp sesame oil.
Stir ingredients around in the glass baking dish to mix well.
Place one half of the whole flat iron steak on a plate and set aside.
Place the other half of the whole flat iron steak on a cutting board.
Use a chef's knife or a large sharp knife (one that you normally use for cutting meat) to cut very thin pieces off of the whole half of the flat iron steak. *IMPORTANT* Cut the meat from top to bottom in a downwards motion, cutting with the grain.
Once you have cut the whole piece of the 1/2 of the steak, repeat with the other half.
Place half of the steak into the cornstarch, wine, and sesame oil marinade. Stir the meat to ensure each piece is coated. Flip over and repeat on the other side.
Add the other half of the cut up meat. Stir, toss, and flip over to coat all areas of the meat. You may have to make more marinade to ensure even coating.
Once the meat is coated, set it aside on your counter to marinate while you prep the other ingredients.
Prepping the Vegetables
Peel garlic cloves and use a sharp knife to mince well. Set aside in bowl.
Cut Spanish onion into half. Cover one half with plastic wrap and place in refrigerator. You won't be needing it for this Chinese Beef and Broccoli Stir Fry.
Take the other half of the Spanish onion, peel, then chop into large chunks or large slivers. Set aside in separate bowl.
Cut a piece of fresh ginger off of the ginger root. Peel and cut into slivers or dice. Set aside on saucer.
Wash broccoli. Cut about 1/2 to 1 inch down from the top of the flower. Save the stem for soup (when ready to use, cut the woody part off of the bottom and peel).
Cooking the Food
Directions
Cook the rice of your choice as usual. For this recipe, I used brown rice. You can use either white or brown. Set aside.
Pot on a pot of water to boil. Once you have a rolling boil, add broccoli and boil for one minute. Turn off and drain broccoli in cold water. I put the steamed broccoli in a bowl and covered completely in cold water to stop the cooking process. Let sit for about 15 minutes. Drain and set aside.
Add the remaining sesame oil to large fry pan or wok. Heat oil.
Add chopped garlic and ginger to fry pan or wok and fry for a couple of seconds until transparent. Be careful not to burn it. Scoop out sauteed garlic and ginger. Place on saucer to use later. Leave oil in pan.
Take some of the marinating steak and place in fry pan or wok. Do not crowd the pan. Fry each piece for 30 seconds. Continue until all steak pieces have been seared.
Place steak pieces on a large plate or glass dish and set aside.
Add some more sesame oil to the fry pan or wok. Turn on the pan. Add the steak and the drained broccoli.
Add in the oyster sauce and continue cooking for a couple of minutes over high heat. Stirring continuously.
Optional- Add in the brown sugar. I did not use any in my recipe as I am watching my sugar.
Add a little water or some more slurry if you want more gravy.
Stir for one minute.
Turn off stove.
Sprinkle with sesame seeds.
Serving the Food
1. Place a couple of spoons of cooked rice on a plate. Take a pot spoon portion of the cooked beef and broccoli from fry pan or wok and pour it over the rice.
2. Take a pinch of the cut up scallions and sprinkle over top of the beef and broccoli.
3. Serve and enjoy!
My family loves it when I make Chinese Beef and Broccoli Stir Fry and I am sure that yours will too!