Philadelphia Cream Cheese comes in many flavors. It is a very versatile product that can be eaten as is on top of crackers, breads, chips, pretzels, or even as a dip for fresh veggies. Not only can it be used a la carte, it can be added to other ingredients to make casseroles, desserts, main dishes, appetizers, cheese balls, and so much more. These 25 Philadelphia Cream Cheese recipes may become some of your favorites.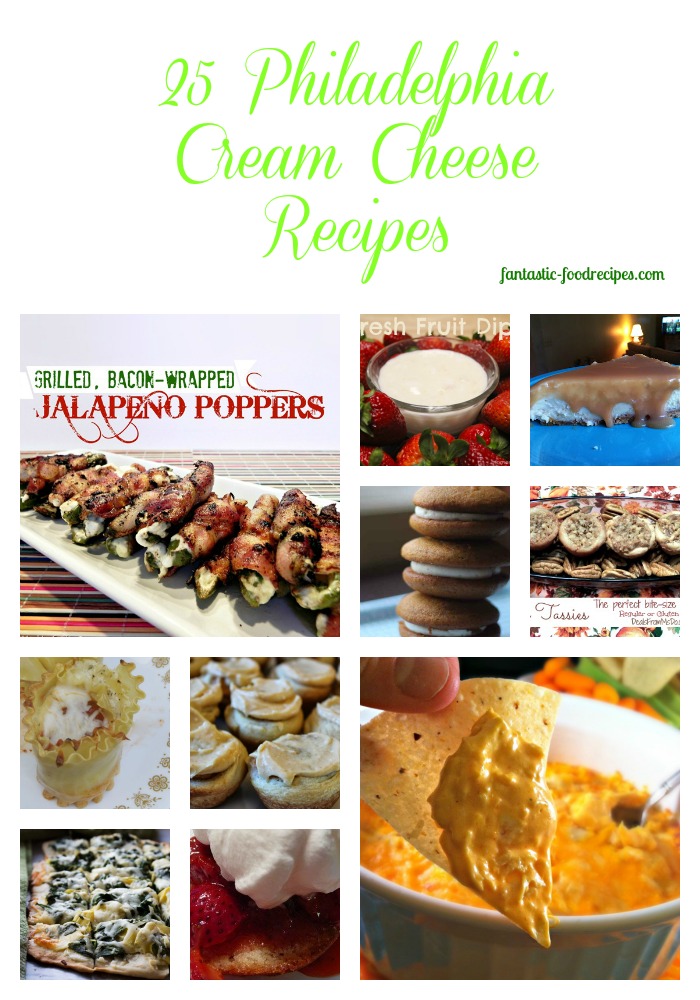 If you are looking for a recipe that uses Philadelphia Cream Cheese, make sure you check out some, if not all of these recipes listed. You may find your favorite Philadelphia Cream Cheese Recipe with a slight twist or even find a new recipe that you would like to try out.
1. Mini Pumpkin Cinnamon Rolls – Play, Party, Pin
2. DIY Whoppie Pies– Sheri Silver
3. Beefy Taco Dip– Mom vs the Boys
4. Mini Blueberry Cheesecake– The Country Chic Cottage
5. Cream Cheese Pound Cake– Barbara Bakes
6. Pickle Roll-Ups– Life as Leels
7. Artichoke and Spinach Dip Pizza– Diet Hood
8. Easy Fresh Fruit Dip– Mom Endeavours
9. Lasagna Cupcakes-Baking Beauty
10. Big Game Appetizers- Mad in Crafts —————-
11. Cinnamon Roll Sugar Cookies– Diet Hood
12. I Brake for Squash– Sheri Silver
13. Easy Appetizer Garlic– Mom Endeavours
14. Creamy Lime Icebox Pie– Cocktails with Mom
15. No Bake Peanut Butter- The Snappy Gourmet
16. Apple Spiced Cupcakes– From Gate to Plate
17. Cheesecake Minis-Have It Your Way– Feeding Big
18. Easy Creamy Onion Dip– Thirfty Jinxy
19. Bailey's Chocolate Chip Cheesecake– I Was Born to Cook
20. Homemade Boursin Cheese– Menu of Musings
21. Reese's Peanut Butter Cup– Mom on Time Out
22. Potato Skins Mac and Cheese– Baking Beauty
23. Green Chili Cream Cheese– Bomb Shell Bling
24. Pecan Tassies- Bite Size Pecan Pies– Deals from Ms Do
25. Spice Gameday Buffalo Wing Dip- Sincerely Mindy
If you like this post, see more DIY, recipes and tips on Pinterest.
Come follow me on Facebook and Twitter.