Lazy Man's Cabbage Rolls
Lazy Man's Cabbage Rolls are the perfect recipe for those who love traditional cabbage rolls, but do not have the time or patience to make them the traditional way. There are several cooking methods that can be used to make the Lazy Man's Cabbage Rolls. They can be made in a slow cooker, an Insta Pot, on top of the stove, or in the oven.
I chose to make mine in the oven as I cook food in the Insta Pot several times a week at all hours of the night or day. First off, I guess you will have to decide what method of cooking you are going to choose and modify this recipe according to what method you are used to using and the time frame for cooking.
I will now proceed with my recipe for Oven Baked Lazy Man's Cabbage Rolls.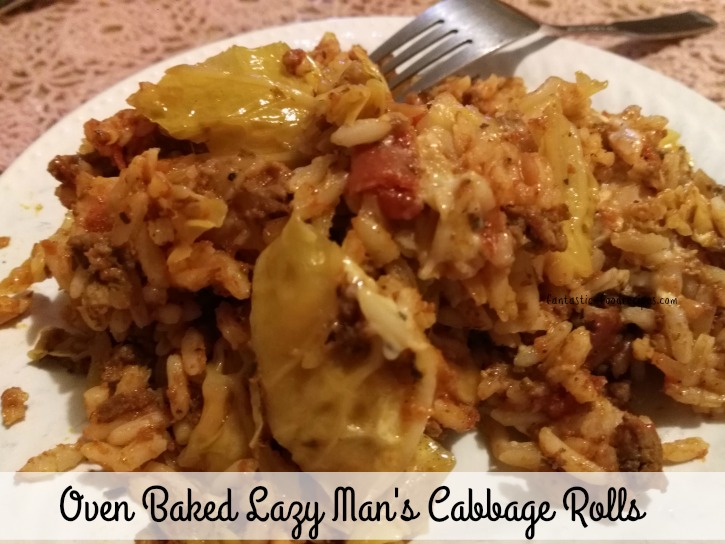 Oven Baked Lazy Man's Cabbage Rolls Ingredients
1 1/2 – 2 lbs lean ground beef (ground pork, chicken, turkey, or a combination of ground beef and pork can be used)
2 medium sized onions, diced fine
4 large fresh garlic cloves
2 Oxo Beef Cubes
1 small to medium sized savoy cabbage (green cabbage can be used instead)
1 28 ounce can of diced tomatoes (with or without seasonings)
2 cans pasta sauce (your favorite)
2 1/2-3 cups brown rice
2 cups water (You will be adding more to the casserole dish as the rice and cabbage cooks)
Grated or sliced cheese for the top (your choice of type/flavor) (I used sliced Swiss cheese as I did not have any blocks of Mozzarella or Old Cheddar left). My kids raid the fridge when no one is looking and cheese never lasts long in our house!
Seasonings
                                                                                                     Salt
Pepper
Garlic Powder
Onion Powder
Dried Basil Leaves
Dried Italian Seasoning
Dried Thyme
Dried Oregano
Worchestershire Sauce
Dried Chili Flakes
Recipe Notes- As for the seasoning measurements,, I can only say to use your own discretion as to the amount and type used. I almost never measure seasonings, unless I am baking. Once I finish adding spices, I do a taste test. In this recipe I added in some dried chili flakes, but only enough to give the dish a tiny bit of heat. My son and hubby like their food fiery hot, and my daughter and I like our food, plain, slightly spicy, or sometimes even medium spicy. So please do modify the seasonings according to your own families' taste.
Directions-
Chop onions, and garlic on a chopping board. Add a little olive oil to a saucepan or fry pan. Add in the chopped onion and chopped garlic. Saute on low until transparent.
Add ground beef or the ground meat that you prefer to the pan.
Season with salt and pepper.
Add in the Worchestershire sauce. A couple of liberal shakes will do.
Brown meat over medium heat until no longer pink. Do not overcook.
Remove the pan from the stove and drain any excess fat/oil in a wire sieve or colander.
Return the cooked meat to the pan.
Make sure you break up the cooked meat with a wooden spoon. You should not have big chunks of meat.
Add in the pasta sauce, canned diced tomatoes, and the seasonings of your choice.
Remove the outer leaves of the cabbage. Wash cabbage. Cut in half lengthwise, and then chop into 2 inch pieces.
Add the cabbage to the meat/pasta mixture.
Add in the brown rice. (You should use long grain rice for this recipe).
Mix well.
Add in some extra Worchestershire sauce. A couple of shakes will do.
Mix well.
Transfer everything to a very large casserole dish. If you use the same amount of ingredients listed above, it will not fit into a glass 9 x 13 inch pan. However, if you happen to have a large lasagna pan with some depth to the sides, that should work.
Take the wooden spoon and smooth out to cover all areas of the baking dish you are using.
Add in 2 cups of water.
Sprinkle the top of the meat with additional Italian seasoning, salt, pepper, garlic powder, dried oregano, and dried thyme.
Cover baking dish with aluminum foil paper.
Place in the oven and bake at 350 degrees Farenhuit for 90 minutes.
Remove from oven at halfway point, 45 minutes and stir everything together with a wooden spoon.
Return to oven and continue cooking for another 45 minutes.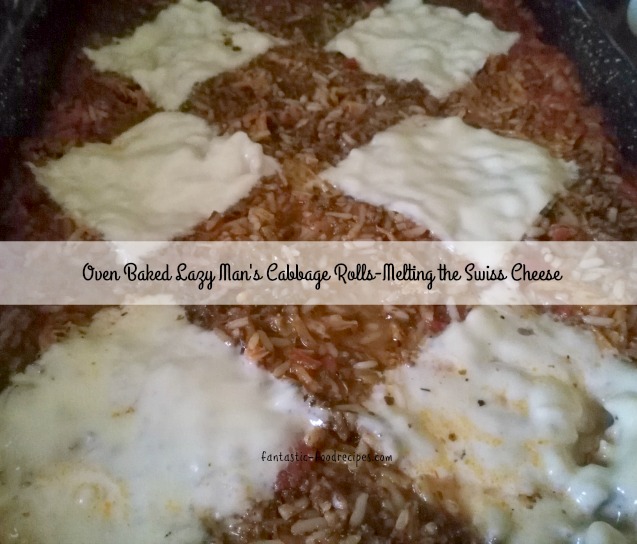 Take out of oven and top with your favorite cheese (optional).
Return to oven for 10 minutes to melt the cheese.
Remove from oven.
Let the dish rest on your stove top for 10 minutes.
Serve and enjoy!
Recipe Notes
If you want the rice and cabbage to be soft rather than crunchy, remove it from oven at 90 minutes and add in an additional 1 – 1 1/2 cups water (as desired). Return to oven and cook for an additional 15 minutes. Top with cheese and return to oven for an additional 10 minutes.
Do you want this recipe to be a little more saucy? Use less rice or you can top it with additional tomato sauce before topping it with cheese. Continue cooking as the recipe above indicates, minus the additional water, of course!