Chai Tea Mini Scones
Make these Chai Tea Mini Scones to eat for breakfast or even for an afternoon snack.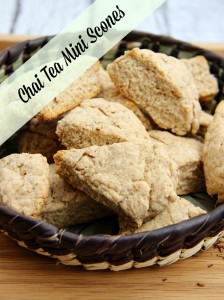 1 cup all purpose flour
1 cup whole wheat flour
1 tablespoon baking powder
1 tsp salt
1 cup white sugar
9 Chai Tea Bags
1 1/2 cups heavy whipping cream
1. Preheat oven to 450C.
2. In a small saucepan add heavy whipping cream and 8 chai tea bags and bring a boil. Reduce to a simmer for 15 minutes.
3. Take tea bags out of cream and set cream aside to cool.
4. In a medium-sized bowl, whisk together the flours, baking powder, sugar and salt.
5. Open 1 Chai Tea bag and add to flour mixture.
6. Add cooled cream and stir until the mixture comes together.
7. Knead the dough a few times.
8. Pat the dough into a two flat rounds about one inch thick and cut dough with knife into wedges.
9. Place wedges on a baking sheet and bake for 12 to 15 minutes, until the tops are golden brown.
If you like this post, see more DIY, recipes and tips on Pinterest.
Come follow me on Facebook and Twitter.