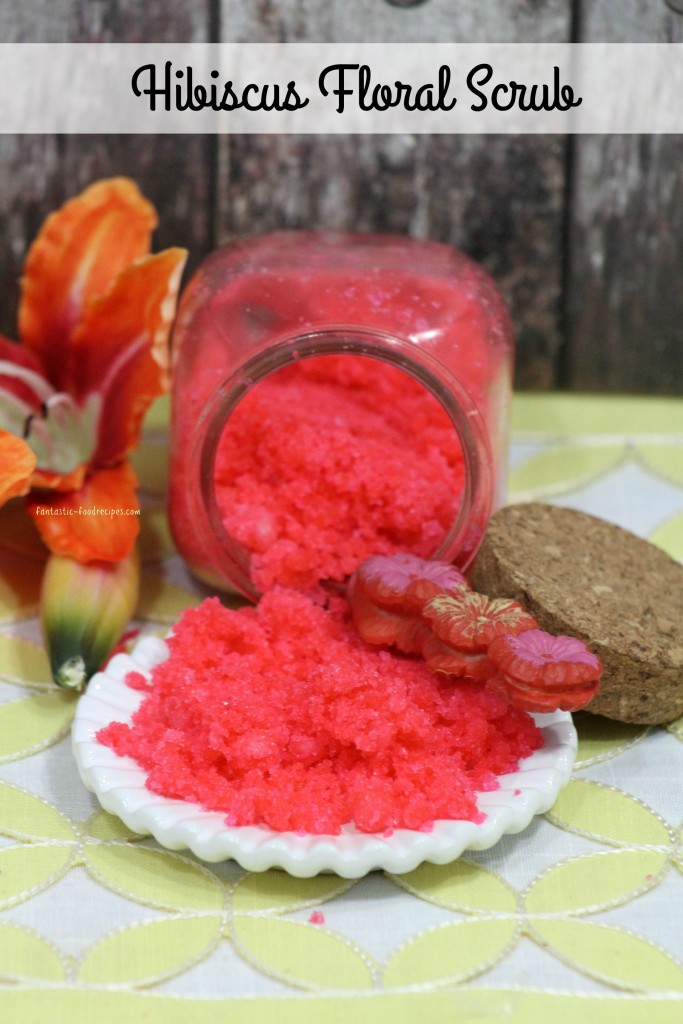 This Hibiscus Floral Sugar Scrub will moisturize your body as you enjoy the beautiful tropical scent of Hibiscus flowers and coconut while soaking in the tub!
It can also be used in the shower. Simply add some of it to a wet washcloth or sponge and rub it over your body as you would a shower gel.

Hibiscus Floral Sugar Scrub
Ingredients:
2 cups Epsom salt
1 cup coconut oil
10-15 drops Hibiscus essential oil
2 Tbsp Hibiscus dried flowers
1 drop of pink food coloring
Directions:
Measure out the amount of Epsom salt that is needed and then place it into a large bowl.
Measure the coconut oil and place in a microwavable bowl.
Put it in your microwave for 30 seconds.
Add it to the mixing bowl.
Stir until well mixed.
Add in 10-15 drops of the Hibiscus essential oil.
Measure out the Hibiscus dried flowers and chop the dried flowers into very tiny pieces. .
Add several drops of the pink food coloring until you get the color that you want.
Add in the dried minced Hibiscus flowers and mix well.
Choose a clean, empty container or jar with a lid of your choice. A Mason jar would look outstanding.
(Optional-You can also add a couple of drops of Chamomile essential oil. This oil  promotes calmness and will help you to unwind.