STRAWBERRY SPINACH SALAD
This Strawberry Spinach Salad might become one of your favorite salads. It is a tasty  way to get some vitamin C. This strawberry spinach salad also contains important nutrients such as iron.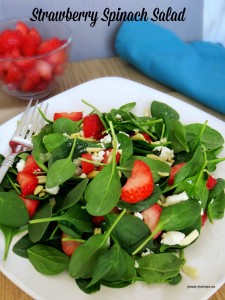 Ingredients:
¼ cup yellow onion, finely chopped
4 tablespoons Raspberry Vinegar
4 tablespoons Extra Virgin Olive Oil
½ pound baby spinach
1 cup strawberries
1/3 cup sliced almonds
2 ounces fresh goat cheese, crumbled
Directions:
1. In a small bowl, whisk together chopped onion, raspberry vinegar and olive oil
2. In serving bowl, combine spinach and strawberries
3. Sprinkle on almond sliced almonds and goat cheese crumbles
4. Immediately before serving, drizzle dressing over the salad and gently toss
Serves 4
Have you ever made this type of salad? Did you eat it plain or did you add a vineagarette?
*Disclaimer*- This post may contain affiliate links.
If you like this post, see more DIY, recipes and tips on Pinterest.
Come follow me on Facebook and Twitter.